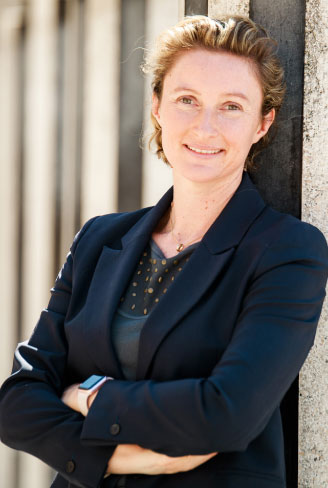 Mathilde Guillou –
FOUNDER & CEO – WAY2AUTONOMY
Mathilde Guillou has a dual background in engineering and sales. She is a Certified Organizational Coach at HEC Paris and is in charge of the "Global Organizations Executive Coaching" Executive Education program at HEC Paris.
Certified in Bern Organizational Theory and TOB Process Management, Social Therapy – Charles Rojzman, trained in Executive Coaching in the United States (CoachU), Mathilde is passionate about systemic and strategic collective intervention in organizations.
Mathilde Guillou began her career at the Laboratoire d'Astrophysique de Marseille as part of the Very Large Telescope project of the European Southern Observatory. Very Large Telescope project of the European Southern Observatory. She then joined the Schneider Electric group for 13 years where she held several management positions: sales, supply chain, channel management, in Europe and Asia.
The global, multicultural projects at the heart of the most successful human and technological transformations have fostered a desire to accompany organizations at the heart of their human and digital challenges through the approach of executive coaching and coaching of organizations.
Organizational coaching, executive coaching and supervision are key areas of expertise's of WAY2AUTONOMY, thus allowing to envision collective intelligence and organizations unconsciousness with a new systemic approach. Today co-founder and CEO of WAY2AUTONOMY, Mathilde Guillou and her teams accompany their clients in France and abroad thanks to a network of professional coaches passionate about global issues. She has created the "Intergalactic Coaching of Organizations" support model to address the challenges of Mergers & Acquisitions, Post Merging Integration and Open Innovation initiatives between companies and start-ups.
Mathilde Guillou is also secretary of the European Circle of Professional Organizational Coaches (CECORP).
ANNE LANDREAT –
Co-Founder & Managing Partner
Anne Landreat is a Transformation Architect who helps the clients to record the impact of their transformation, innovation and development to unleash the full potential and energy for change of their teams.
She accompanies transformation processes by designing and facilitating spaces for experimentation, creativity, reflexivity and development for teams, leaders and organizational systems of all sizes.
She has built her unique style of intervention through a rich journey that has taken her from a degree and practice as an architect to the production of large-scale international artistic projects, before dedicating herself to facilitating the emergence of creativity, leadership and positive group dynamics within all types of organizations.
Her holistic approach integrates the tools and postures of organizational and systemic coaching, transactional analysis, design thinking, creative thinking and the facilitation of collective intelligence.
She has spent the last 10 years coaching large corporations in exploring and navigating their transformation path. Sodexo, Leroy Merlin, AMF, Allianz, Vivendi, Virbac, C40 Cities Climate Leadership Group, Adidas, Gemalto, AccorHotels, Toyota Motor Europe, Pernod-Ricard, PSA Peugeot-Citroën, Air Liquide, SNCF-Keolis, TAT Express or the French Red Cross are among the clients who have placed their trust in her.
She is also involved in HEC Executive Education, NUMA and General Assembly programs and regularly gives lectures and master classes in France and abroad.